Meet the Team
Everyone likes to put a face with a name and know that they are working with qualified technicians and administrative support.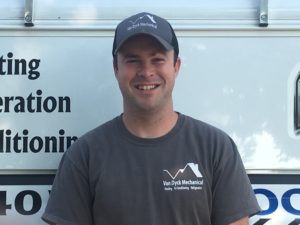 Clark Van Dyck - Owner
Clark graduated from OSUIT Summa Cum Laude with a degree in Air Conditioning and Refrigeration Technology.  He holds an Oklahoma Unlimited Mechanical Contractors License, a Universal Refrigerant EPA Certification, and is NATE certified.  To date he has worked in commercial, industrial, and residential areas of the field, including work with refrigeration and ice machines. He is customer service driven and delivers service to every customer like they are family.
Jennifer Crawford - Office Administrator
Jennifer brings many valuable skills to Van Dyck Mechanical through her experience working in both private industry and government agency administrative roles.  Jennifer possesses two college degrees related to her position.  Jennifer is key to the day to day operations in many ways but most importantly insuring that customers are served in a timely manner.
Ronda Van Dyck - Director of Operations
Ronda is responsible for maintaining smooth and efficient business operations. With a background in management and accounting, Ronda holds the skills needed to juggle a wide variety of responsibilities including analyzing financial data. In addition, Ronda thrives in developing internal processes and researching new directives for growth opportunities.
Steven Steele - Field Operations Manager
Steven holds an Oklahoma Mechanical Journeyman's License as well as a Universal EPA Refrigerant Certification.  Steven brings around 15 years of experience in the industry with him to Van Dyck Mechanical.  He has worked in residential, commercial, and industrial areas of the field, which includes work on refrigeration systems and ice machines.  When the job gets tough, Steven possesses the skills to get it done.
Ken Davis - Journeyman
Ken completed the HVAC program at Moore Norman Technology Center.  Ken has years of useful experience in a couple industries.  Ken has worked as an HVAC Technician on a university campus.  During that time he gained experience on HVAC and refrigeration systems that served residential apartments to large multi-story buildings.  No matter the size of the job, we can count on Ken to get it done.
Blake Steele - Journeyman
Blake completed the HVAC program at Moore Norman Technology Center. He also holds a Universal EPA Refrigerant Certificate. Blake brings 7 years of industry experience with him to Van Dyck Mechanical, including 3 years working with an American Standard dealership. Specializing in the service side of the business, we can count on Blake to troubleshoot the most difficult system problems.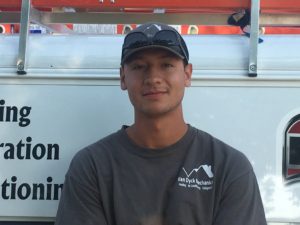 Dakota Goombi - Apprentice
Dakota graduated from the Canadian Valley Technology Center where he completed extensive studies in heating, air conditioning, and refrigeration.  Dakota has experience in both installation and service of HVAC system.  Dakota has worked on both commercial and residential equipment.  Dakota is very customer service oriented, driven, and has proven his competency to keep up with the advancing technology in the field.  Dakota will be receiving full licensure at the completion of his legally required apprenticeship period.